As the sun goes down, pond lights can bring a magical ambience to your outside space. Highlighting a water feature or foliage around the pond as well as illuminating the pond from within can bring your garden to life with enchanting effect.
Let's take a look at what to consider when choosing fresh water pond lights.
Make Sure You've Got The Right IP Rating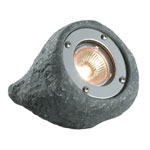 Underwater
Water and high voltage electricity can be a dangerous combination so when choosing lighting for in and around your pond area you need to look out for the product's IP rating. An IP67 or IP68 rating is required for submerging lights under water. The Stone Light Garden Light with its stone effect design will blend seamlessly with its surroundings and with an IP68 rating is suitable for creating an underwater glow. As it is low voltage it is a very safe option for your outdoor lighting. For a striking display why not dot these stone garden lights in amongst your shrubs too.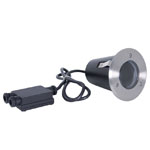 Alternatively mesmerizing pools of light can be created with the Albany Submersible Ground Light which is suitable for submersion up to a depth of 1M.

Highlighting the area surrounding your pond can also have dramatic impact. If you want lighting right up to the water's edge try the Adelpha Submersible Ground Light. This fitting is suitable for walking over and it carries an IP67 rating so can also be installed underwater.

Around The Pond (Not Underwater)
Illuminating flower beds and foliage set back from the pond can be done in contemporary style with the IP44 rated Olympus LED garden light. This striking light with an anthracite finish uses energy efficient LED technology so won't cost the earth whilst bringing a warm glow to your garden. It's part of the Plug 'n' Play range so can be linked to other Plug 'n' Play fittings for versatile garden lighting.

Feature Lighting
For a spellbinding display try spotlighting a small cascading waterfall or other water feature with the Thames Low Voltage Stake Light. It is built for outdoor use with its IP65 rating and has an adjustable head so you can find the perfect angles to create something spectacular.
Light Output
Don't forget that the deeper the pond, the stronger the light output will have to be so it can be seen through the water. Check out the wattage or lumens for your chosen bulbs.
We hope we have given you some food for thought so you can create a night time feature with your pond lights. Whether you are looking for soft subtle lighting or a more dramatic display simply take a look at the wide range of outdoor lighting options here at Lighting Direct.
For more inspiration take a look at our Lighting Ideas section.
Maxine Clarke Senior Buyer
Maxine has been our decorative buyer since 2015. With her experience in working for consumer-led brands, she is the perfect person to pick out the latest lighting trends for both your home and business. Maxine has an eye for the best up-and-coming lighting from the UK and around the world and works tirelessly to add new brands to our portfolio. One of her trends to watch in 2020 is connectable garden lighting; with summer garden parties more and more popular, being able to build and extend your own outdoor lighting with spotlights, festoons and string lights has never been easier – simply plug and play.