The right lighting can help to create the perfect garden atmosphere, and thanks to the wonders of Plug and Play lights, installing your outdoor lighting system couldn't be easier – in fact, all you need is a screwdriver.
Plug and Play garden lighting is so safe and simple to set up anyone can do it – there's no need for an electrician, and you don't need any special tools. The fact that they are low voltage means there's no danger to children and pets, and watertight screw connectors are used throughout.
How Does It Work?
Click image to enlarge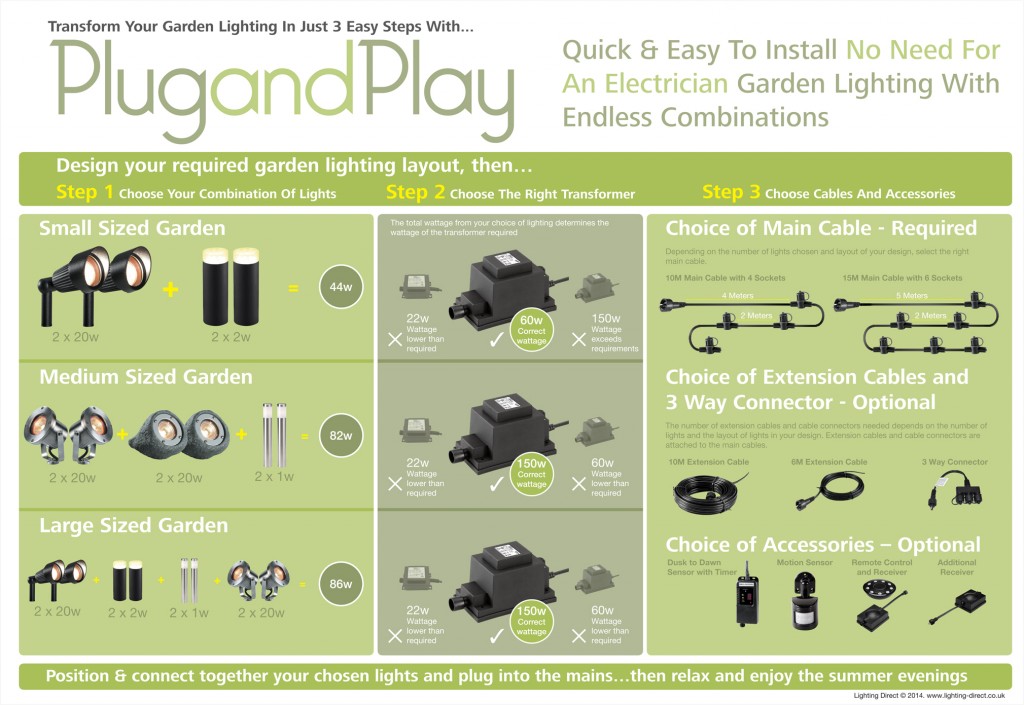 Essentials
In order to setup your Plug & Play Lighting system, essentially you will need 3 components:
Choose your combination of lights. Feel free to mix and match too – because everything links to the same main connecting cable, there's no need to worry about compatibility.
Choose the correct transformer. The next step is to add up the wattages of the individual lights to work out how much power you need in total. Transformers are available in 22W, 60W and 150W wattages to suit different needs. The required wattage of the transformer needs to be greater than the total combined wattage of all the lights you have selected.
Choose your main connecting cable, either 10m with 4 ports or 15m with 6 ports.
From there it's simply a matter of running the main connecting cable through the garden and attaching the connectors on to the individual fittings. Extension cables and extra connectors can be added separately if required.
Depending on the individual plug and play lights you select you may need a screwdriver to attach the lights to their fittings, and you may want to bury the cables in the ground or out of sight (though this is by no means necessary), but besides from plugging it into the mains you're all done – your Plug and Play lights are ready to go!
Optional Extras
To give extra flexibility to your Plug & Play Lighting system, you can also choose from a range of additional extras including: 3 way connector, PIR sensor, dusk to dawn sensor, extension cables and remote controls.
Plug And Play Lights: Your Options
The beauty of the Plug and Play lighting system is that you can choose from a wide range of lighting products and connect them to the same system.
Spotlights: available in a range of sizes and materials, spotlights are ideal for illuminating specific areas of the garden you want to draw attention to. A classic example is the Catalpa Spotlight Single Extension. This durable and robust fitting is perfect for adding atmospheric illumination to your garden.

Uplighters: a more subtle approach than spotlights is to use uplighting to draw attention to specific details and features of your garden from below. Take the Cylon Square Garden Light a compact and contemporary fitting. It's a great little accent light that will add depth and character.

Post lighting: vertical post lights are perfect for illuminating pathways or placing between plants. The wide range of available options include halogen, LED and light bulb posts. The Albus LED Garden Light is an excellent choice for lining path or driveways and is also very suitable for incorporating into a patio design.

Wall lighting: for illuminating a whole area of the garden rather than drawing attention to a single feature, wall lights are the way to go as the lights are fixed to a higher position than ground-based alternatives. The Callisto LED Garden Wall Light for example has traditional charm and would look gorgeous next to a large oak door nested in ivy.

Deck Lights are the perfect way to highlight your decking area with style and poise. If you have taken the time and effort to lay your decking yourself you can finish the job without the need for an electrician with plug and play lighting. The Umbra Deck Light is a great example of this type of easy to install ground light.

Atmospheric lighting: strategically placed LED or halogen-based atmospheric lights – such as in trees or along pathways – can finish things off nicely and help create the perfect mood in your garden. The Alder LED Spotlights – Set of 3 are stake lights that are really easy to reposition as required. They are great when sited in flowerbeds to show off everything that is in bloom after dark.
Plug And Play At The End Of The Day
It's fair to say that Plug and Play Lights mean you can create a truly illuminated garden for everyone to enjoy safe in the knowledge that it won't cost the earth (financially or environmentally) and it can be done with minimal effort.
Looking for more inspiration? Go to Lighting Ideas.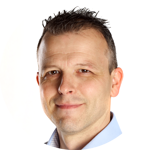 Andrew Evangelidis Head of Buying
Andrew is an experienced buying professional who takes an entrepreneurial approach to identify new lighting solutions and ensure Lyco have first-to-market ranges for our customers. Having previously worked for well known brands such as Wickes, Carphone Warehouse and Toys R Us, Andrew has now turned his hand to sourcing commercial lighting and ensure our customers receive top brand quality products at marketing leading prices. He manages a team of commercial and decorative buyers who travel the world finding new products that our customers don't even know they need yet.