If you are planning a lighting scheme for your patio or decking area, stop for a moment or two and consider how you use this space. Does it feature an outdoor table complete with chairs and a parasol for your al fresco dining? Does it have a barbeque area for your summer entertaining? However you use your patio, choosing the right lighting will bring it to life after dark.
Which lighting will work best?
A combination of both functional and ambient lighting will give you the best results. Follow the same principles for indoor lighting and layer your light.
Functional Lighting
BBQ
Put the spotlight on your barbeque to ensure that you can cook your sausages to perfection. Choose an energy efficient LED option such as the GL7 LED Garden Spotlight. This spotlight can be wall mounted or secured in the ground to get the beam of light at just the right angle for preparing your culinary delights.

Don't forget to choose patio lighting with a suitable IP rating for outdoor use.
Steps
If you have steps leading up to your patio or decking area, ensure they are adequately lit. Illuminate the way with LED Walkover Lights which mimic daylight for a safe walkway to your outdoor area.

Borders
Highlight the edges of your patio or decking area to carve out the space and add another level of illumination. Use stake lights such as the 365 Solar Stake Light for a decorative contemporary look. If you prefer a more robust fitting in a traditional style then take a look at the Milano Pedestal in an antique black finish.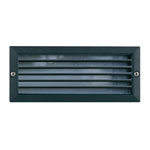 If you have a low level wall around your patio, consider brick lights. Smart and unobtrusive they will add a sophisticated light to this outdoor setting. Take a look at the Edit Low Energy Brick Light – Black for a sleek low energy option.

Ambient Lighting
As well as functional lighting you will want to create the right mood for your outdoor space. Wall lights can provide both functional and ambient lighting. If you choose a fitting that illuminates up and down your wall you can highlight your patio area or steps below as well as adding layers of light above the area. A stylish option can be seen in the Riga Wall Light – Twin – Anthracite.

Let's Party
For a twinkly party ambience wrap fairy lights such as  Solar Fairy Lights -White- 200 LED around your garden parasol, fencing or gazebo.
Make a statement on your patio with the use of decorative outdoor lamps or illuminated cubes which will create impact when entertaining friends and family during summer evenings. Check out the Lola Floor Lamp for a vibrant splash of orange. It has a concrete base for positioning directly onto your patio. For a completely different look check out the Dett Floor Light which will add a funky vibe to any party.
Create a magic space outside your home with a bit of clever lighting. For some of the best ideas on the market take a look at our full range of outdoor lighting.
For more inspiration check out our Lighting Ideas section.

Maxine Clarke Senior Buyer
Maxine has been our decorative buyer since 2015. With her experience in working for consumer-led brands, she is the perfect person to pick out the latest lighting trends for both your home and business. Maxine has an eye for the best up-and-coming lighting from the UK and around the world and works tirelessly to add new brands to our portfolio. One of her trends to watch in 2020 is connectable garden lighting; with summer garden parties more and more popular, being able to build and extend your own outdoor lighting with spotlights, festoons and string lights has never been easier – simply plug and play.