Surprisingly there is a huge variety of outdoor sensor lights AKA PIR movement detector fittings available today. From contemporary decorative lights, floodlights and even solar lights we are going to take a look at your options.
The PIR (passive infrared) sensor works by detecting the difference in temperature of a warm body passing against a cooler background.
Recommendations
Consider placing one above your garage or garden shed where you may keep expensive bikes or tools. Mount the light at least 2.5M off the ground and angle it slightly downwards making sure it cannot be triggered by passers-by. Avoid positioning it near the flue from your boiler as this can activate the sensor.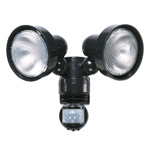 Product comparison
Spotlights for Larger Properties
The PIR Security Spotlight will work well if you have a larger home with a wide expanse of outdoor space thanks to its 12M, 200 degree detection range. It is robust and carries a 5 year guarantee making it suitable for both the home or small business premises. The light can be set to stay on for between 5 seconds and 18 minutes making it ideal if illuminating a shed or outside office at the bottom of the garden.
If you are a frequent traveller simply switch the Night Eye to 'holiday mode' which allows a specified 'on' time between 1-8 hours to be manually set for the duration of your absence.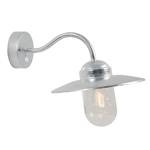 Modern Lighting for Urban living
If you want a contemporary option with a PIR movement sensor then the Luxembourg PIR Wall Light – Galvanised Steel will serve you well. It has a smaller detection range than the Night Eye, 8M and 100 degree range, so is ideal for town houses or modern homes. As the light only activates within this range it will not be a nuisance to neighbours and only remains on initially for 90 seconds. Even though the Luxembourg delivers on style it is also very hardwearing which is backed up by its 15 year anti-corrosion guarantee making it suitable for coastal locations. It even has an over-ride switch so you can keep the light on continuously for an evening barbeque.

Post Lighting
Many people don't realise that PIR sensors come with lots of different types of fittings, so you may not have considered a Victorian style post light. For the parameters of your property why not choose the Milano PIR Post. With a wider detection range than the Luxembourg it stands up to its competition.
Solar Lighting
Have you thought of solar lighting as an option? With advanced technology they rival their counterparts and can be placed anywhere outdoors. The Tamara Solar LED Security Light has exactly the same detection range as the Luxembourg Wall Light. A key feature is its vandal resistant polycarbonate casing which is robust enough for any situation.
We hope that we have given you a flavour of some of the options available to you when selecting your outdoor sensors lights. To find a fitting with a PIR sensor visit our outdoor lighting section and use the left-hand side filters and select PIR in the feature column.
Alternatively for more inspiration check out more of our Lighting Ideas.

Maxine Clarke Senior Buyer
Maxine has been our decorative buyer since 2015. With her experience in working for consumer-led brands, she is the perfect person to pick out the latest lighting trends for both your home and business. Maxine has an eye for the best up-and-coming lighting from the UK and around the world and works tirelessly to add new brands to our portfolio. One of her trends to watch in 2020 is connectable garden lighting; with summer garden parties more and more popular, being able to build and extend your own outdoor lighting with spotlights, festoons and string lights has never been easier – simply plug and play.