Solar Powered Lights have come on in leaps and bounds in recent years largely due to energy efficient LED technology but also thanks to technological advances in solar cells and batteries. Poor quality solar powered lights are now a thing of the past. Today's lights can illuminate your outdoor space to great effect and most no longer require bright sunshine to charge up making them ideal for all-year-round use.
From attractive feature lighting to PIR security lights we will show you an energy free and safe way to light up your garden using the power of the sun.
LEDs for Powering Outdoor Lights
LEDs score highly on energy efficiency as they require very little power. They are also robust, have an extensive lifespan and at the same time produce a bright light making them ideal for solar powered lights.

Feature Lights
Contemporary
Strategically placed solar powered lighting can bring your garden to life after dark allowing you to socialise and entertain outside way into the small hours. Illuminating automatically at dusk and switching off again at dawn the 365 Solar Stake Light has modern style and as it does not rely on mains electricity can be freely dotted around your garden or used to highlight paths, driveways or your patio.

Traditional
For a little bit of traditional charm take a look at the Assisi Solar LED Lantern. Blending the style of a bygone era with modern LED technology, this handsome outdoor solar light will illuminate your garden into the twilight hours with no addition to your electricity bills.

Fairy Lighting
Fairy lights wrapped around trees, a garden trellis, a parasol or hung around a doorway can look particularly enchanting. A solar powered option can be positioned at any distance from the house and will produce a mains-equivalent light. Why not try the Solar Fairy Lights – White – 200 LED with a multi-mount installation system for added flexibility.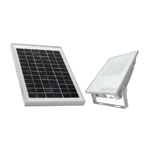 Functional Lighting
Floodlights
Solar powered lights are now strong enough to be used as security lighting for areas out of reach of the mains electricity supply such as a garden shed. The Solar PIR LED Floodlight is an award winning option with a total light output of 400 lumens on a par with that produced by a mains floodlight. It has an integrated PIR Sensor too so is activated when it senses movement.

Spotlights
Use a solar powered spotlight to highlight features in your garden such as trees or shrubbery or use to illuminate pathways after dark. Choose super bright LEDs such as those found in the 365 Solar LED Spotlight. This spotlight illuminates at dusk and turns off automatically at daylight.
To reduce your carbon footprint and bring a magical glow to your exterior space, consider all the benefits of today's solar powered lights. With no need for an electrician or a mains power supply, LED solar powered lights are the way forward.
For our full range see our solar lights section.
Alternatively click here for more inspirational ideas.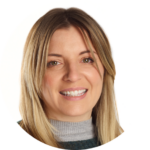 Maxine Clarke Senior Buyer
Maxine has been our decorative buyer since 2015. With her experience in working for consumer-led brands, she is the perfect person to pick out the latest lighting trends for both your home and business. Maxine has an eye for the best up-and-coming lighting from the UK and around the world and works tirelessly to add new brands to our portfolio. One of her trends to watch in 2020 is connectable garden lighting; with summer garden parties more and more popular, being able to build and extend your own outdoor lighting with spotlights, festoons and string lights has never been easier – simply plug and play.