The right lighting will play a big part in helping you to realise your vision of your dream kitchen. In order to find the perfect lighting you need to consider the specifics of your ideal kitchen. Do you love to cook and require the perfect conditions to create your culinary masterpieces?
Perhaps you dream of a kitchen that is the heart of your home where family and friends can socialise. Once you've established your personal requirements you can begin the process of finding kitchen lighting that will help you to achieve your vision.
Finding the right lighting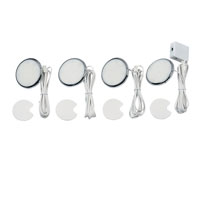 Practical lighting
If you are an enthusiastic amateur chef then you're going to need extra task lighting to aid food preparation. As I'm sure you know, it's far too easy to make a mistake or cut a finger when working in shadow. The Set of Four Surface Mounted LED Downlights are easy to install and as well as adding practical task lighting right where you need it they also add charming accent lighting when the main lights are off. They are LED lights so produce little or no heat, just the job for the hot working environment of the kitchen.

However if you need something that can fit into a much narrower space you may want to consider LED Strip Lights. These are again perfect for under cabinet task lighting.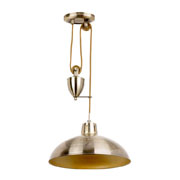 Adaptable Kitchen Lighting
The kitchen is probably the most versatile room in the house that serves a number of different functions such as cooking, eating, socialising, playing with the kids etc. If your kitchen is abuzz with many different activities during the day then adaptable lighting may be just what you need. The Polka Rise and Fall Pendant Fitting in Antique Brass can be adjusted to suit any situation. Leave it up high for a broad distribution of light or lower it down to create a cosy ambience in the evening, perfect for entertaining or romantic dinners.
If antique brass isn't your thing don't fear as it's also available in cream and antique nickel, which makes it easy for you to find the right one for you and your home.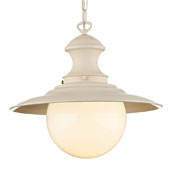 Gorgeous Kitchen Lighting
Let's put function and practicalities aside for a moment and concentrate solely on the appearance of your kitchen. To find the right lighting for your dream kitchen you need to consider, what is the overall theme or style you are trying to achieve? For example the Lucide Cream Pendant has bags of classic character with an old-fashioned elegance and charm. It should work well with most retro or vintage styles of décor.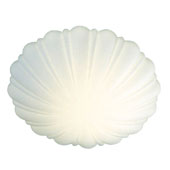 For a subtler look, how about the Café flush fitting light. This elegant kitchen light is ideal if you have a smaller space, or simply if you want to create a warm atmosphere with fittings that are flush to the ceiling.
These are just a sample of the kitchen lights available here at Lighting Direct. In this modern world it's important to have your piece of space and serenity. Your kitchen should be the warm and glowing heart of your home. So switch on and take a look through our Kitchen Lighting range and wait for that lightbulb moment!
Looking for more inspiration? Go to Lighting Ideas