The Royal Institution of Chartered Surveyors forecast that the average UK house prices are set to rise by 6% a year for the next five years. With skyrocketing house prices and the cost of stamp duty, moving house is becoming a less affordable option for increasing one's living space. So what's the alternative?
The potential to add an extra 20% to the value of your home makes building upwards a good solution. People are staying put and converting their lofts into an extra room. Let's take a look at how to maximise this space.
Building Up – But Building What?

Bedroom + En Suite
Converting a loft to a master bedroom with an en suite is not only a good return on investment but can be a tranquil haven set away from the rest of the house. Place recessed downlights such as Trimless Fire Rated Downlights into the ceiling for neat fuss-free ambient lighting. Assess how much natural light you have in the room and then layer the lighting scheme to add depth.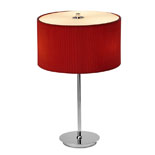 If you want to stick to neutral colours on the walls, try positioning table lamps either side of the bed in a rich coloured fabric such as the Zaragoza 3 Light Table Lamp – Red to ground the room. For a touch of luxury and added texture, install a semi-flush fitting above the bed such as the Errol Semi-Flush. It's perfect for the lower ceiling.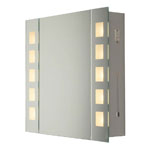 Cleverly placed mirrors on the wall can also open up a smaller space. Try the Zenia Illuminated Mirror Cabinet positioned over the en suite basin for a mirror, cabinet and light all rolled into one. Choose suitable IP rated fittings for the bathroom area such as the Fire Rated Shower Light – Polished Chrome for above a shower cubicle.
Home Office
As planning permission is not required for the majority of loft conversions, turning this space into a dedicated work area is a smart move. Having your home office tucked away at the top of the house gives you a room in which to concentrate in peace and quiet.

Choose light colours and neutral shades for the décor as they will open up your space by reflecting the light. Try uplighters positioned to illuminate darker corners of the room such as the Limina Plaster Uplighter. Keep office furniture simple and minimal. The same goes for your task lighting. Choose a neat energy efficient wall mounted fitting such as the Stix LED Spotlight – Daylight for a sleek contemporary look.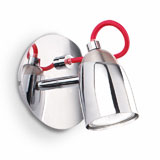 A Den for The Kids
Whether you have a teenager looking for a grown up space, or younger ones who want an area in which to play, a converted loft can be just the answer. Add some brightly coloured bean bags or floor scatter cushions together with some funky wall art for the ideal hide-out.
Choose spotlights with a shiny texture to add interest to your lighting such as the Pollicino Single Spotlight with a vibrant red corded cable. For a simple piece of modern lighting for a higher ceiling take a look at the Plumen Pendant – Red.
Whether you want to turn your loft into a gym, library or guest room take some time to choose the right lighting for your space.
If you found this article useful why not check out our Lighting Ideas section for more inspiration.

Maxine Clarke Senior Buyer
Maxine has been our decorative buyer since 2015. With her experience in working for consumer-led brands, she is the perfect person to pick out the latest lighting trends for both your home and business. Maxine has an eye for the best up-and-coming lighting from the UK and around the world and works tirelessly to add new brands to our portfolio. One of her trends to watch in 2020 is connectable garden lighting; with summer garden parties more and more popular, being able to build and extend your own outdoor lighting with spotlights, festoons and string lights has never been easier – simply plug and play.