Moving house is an extremely exciting time; no matter if it's your first home or your tenth, nothing quite beats the feeling of getting the keys to your new home. One of the best things about moving house is that you get to put your own stamp on it – and lighting plays a big part in this.
Room by Room
Each room of your new home will have a unique set of lighting requirements, based on the primary function of that space. For example, kitchens will typically require bright task lighting to illuminate work surfaces, whilst bedrooms, where relaxation is key, will require more ambient solutions, such as side lamps and dimmable pendants.

Layer Your Lighting
Overhead lighting is an essential component of any lighting setup, but used alone it is not always enough. Installing a variety of lamps gives you full control over the lighting throughout your home, allowing you to set the perfect mood in each room. The inclusion of table lamps and floor lights means you can turn off your bright overhead lights, creating a far more relaxed atmosphere – perfect for winding down before bed or watching a movie.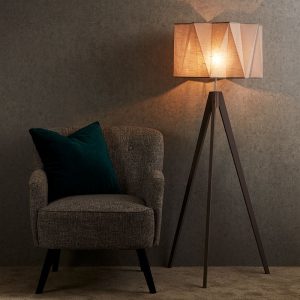 Watch Out For Shadows
When installing a new light, often the first consideration is how bright it will be. Very few people give the same attention to the shadows that it will create, which is almost as important. Shadows can cause a serious issue in your kitchen, office, or any room in which you will be working regularly. In these rooms, consider task lighting to counteract shadows that will be cast from bright overhead lights. Additionally, when planning the lighting in your bathroom, it's best to implement lighting either side of your mirror, as opposed to above the mirror, as this will help to reduce the shadows falling across your face – beneficial for makeup application, for example. View our range of mirror lights here.
Think LED
We were early advocates of converting your old lighting to LEDs, and moving house is the perfect time to make the switch. LEDs offer numerous benefits in comparison to traditional lighting solutions, such as halogen and incandescent bulbs, including increased energy efficiency, longer lifespan. LEDs have become the go-to industry standard for lighting and, with the halogen ban that came into place in 2018, they are now much more widely available and much cheaper to install than they were a few years ago. If you haven't switched yet, we recommend you do this now.
Don't Rush It
Moving into a new house is an exciting time and it's completely understandable that you want it to be finished as soon as possible. However, making rushed decisions at the interior design stage, especially when planning lighting, could mean compromising on the finished result. Once you have spent some time in your new home you will start to get a feel for the best ways to light each room, based on how you use the spaces on a daily basis. There's no right or wrong when it comes to lighting, it's all about what works for you.
If you are still unsure on the best ways to light your new home, get in touch today and speak with one of our lighting experts.