The benefits of a kitchen island are many. They give you extra space to cook, and they're a place to relax with the family. They provide a focal point in any home, but if you really want to enjoy your new surface, good lighting is vital. Please read on for some expert kitchen island lighting tip, or click here to jump straight to the kitchen fittings.
Evaluating your lighting needs
One thing you can rely on in the UK is that the sun will often desert you, so don't allow for natural light when thinking of kitchen island lighting. Look at your kitchen after dark to identify its weak points and needs.
More than any other room in the home, the tasks you carry out in a kitchen are hazardous. So lighting needs to be bright, and it needs to be brighter the older we get.
Even if you already have lighting in your kitchen, you'll want to make sure your kitchen island is well lit. Perhaps you're opting for a complete revamp? The ideas that follow cater for all needs…
Dimming
One thing that will give you a head-start over the British weather is dimmable control. With dimmer switches you can dictate light levels and make changes according to daylight intensity. Dimming can also create mood, whether for a romantic meal or family events.
Kitchen island lights: what to consider
Think about the size and shape of your kitchen island, and choose light fittings that are proportional to its dimensions. As we're about to learn, you can choose one type of lighting for your island, or you can mix and match to create a more unique effect.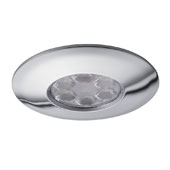 Downlights
Recessed downlights are a modern solution often positioned in the ceiling around a kitchen island rather than directly overhead. This avoids any harsh, direct reflections on metal or stone surfaces.
The Fireguard LED6 Dimmable Spotlight is a fine choice of kitchen downlight, not least because it is fire-rated. This allows vital escape time for upstairs occupants during a fire. The Fireguard has an IP65 rating, too, so it is well-sealed against water and steam.

One benefit of downlights is that they are low-key and don't need to be fitted right above your kitchen island, so they allow a more decorative light to be installed as well.
Set into the ceiling, the Trimless Fire-Rated Dimmable Downlight is ideal as an 'invisible' light source that will not compete for attention with decorative fittings. They're also a great choice on their own if you're going for a minimalist look.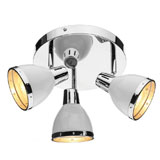 Spotlights
Easier to install than downlights, spotlights can provide overall lighting or accent lighting. They're versatile too. Available in many types of fitting, you should have no trouble finding a spotlighting solution that suits the size of your kitchen island.
The beautiful Hyssa 3-Light Plate in glossy white finish makes a fine choice of light over a square-shaped kitchen island. Each of its three light heads is adjustable, so you can direct light exactly where you need it.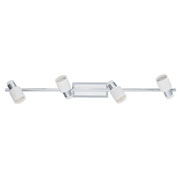 Suitable for a longer kitchen island, the Davida 4-Light Spotlight Bar can be installed over the centre or edges of your island. The latter is especially useful with shiny work surfaces, as the extra angle helps avoid light bouncing straight into your eyes. This fitting comes with four 5W LED spotlights, for years of reliable service.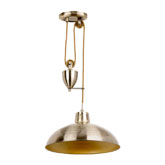 Pendants
Pendants are a popular choice of decorative light for kitchen islands. You should allow a space of 30-36 inches above work surfaces when installing, depending on the height of family members. Install two or three pendants together if space permits, or more if the fittings are compact.
For traditional appeal, the Polka Rise and Fall Pendant will look great above a kitchen island. Inspired by mid-19th century French lights, its counterweight design allows easy height adjustment as required.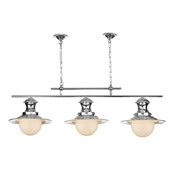 A striking light for your kitchen island is the handcrafted Station 3-Light bar Pendant from century-old British company, David Hunt Lighting. This fitting is ideal for longer islands and a showpiece for any kitchen. Single and twin-light versions are also available.
A warm or cool island
Something to ponder when lighting your kitchen island is whether to use warm or cool white lights. They have different purposes:
Use cool white lights of 4000K-6500K to stimulate alertness and energy, and to reduce eyestrain in task lighting. Such lighting is popular in kitchens.
Warm white lights of around 2700K-3200K are widely used for creating a relaxing ambience.
Bear in mind that you're not limited to one colour temperature. For example, you could install cool white downlights for task lighting and warm pendants for ambience on different switches.
If you're marooned on an island with the perfect lighting, cooking will never be dull again.
Why not take a look at our full range of Kitchen Lights.
Alternatively for more inspiration try our Lighting Ideas section.

Maxine Clarke Senior Buyer
Maxine has been our decorative buyer since 2015. With her experience in working for consumer-led brands, she is the perfect person to pick out the latest lighting trends for both your home and business. Maxine has an eye for the best up-and-coming lighting from the UK and around the world and works tirelessly to add new brands to our portfolio. One of her trends to watch in 2020 is connectable garden lighting; with summer garden parties more and more popular, being able to build and extend your own outdoor lighting with spotlights, festoons and string lights has never been easier – simply plug and play.