Security lights are one of the many precautions you can take to help keep burglars and vandals away from your property. You've worked hard for your home, and you'll no doubt want to keep your family and belongings safe. As an added bonus security lights also make entering and exiting your property a lot safer at night.
Seasonal burglary rate
It's common knowledge that the burglary rate goes up in the autumn and winter months.
West Yorkshire police state that when the clocks go back in autumn the burglary rate often increases especially just before and after Christmas. Click here to view reference.
This would seem to make perfect sense as this is the darkest part of the year. This is not to say that burglaries don't take place during the day, of course they do. However the dark nights simply make it easier for a would-be intruder to get in and out of your home without being seen.
Police recommendations
The Metropolitan Police:
Recommend lighting as a burglar deterrent which should be used in conjunction with other home security methods. Click here to view reference.
Hertfordshire Constabulary:
State that leaving lights on indoors is also very important for home security. Of course, these lights need to be near doors and windows to make them visible. They also advise that exterior lights be installed at a height where they can't be tampered with. Click here to view reference.
The Cleveland Police:
Advise on their website that lighting your property can also be a pre-emptive deterrent. Burglars sometimes choose the house they are going to target in advance. They are less likely to select a house that is well lit. Click here to view reference.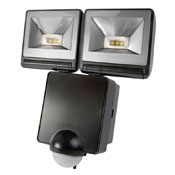 Security lighting for your home
Versatility…
Are you looking for security lighting that can do everything, well almost everything? The LED Twin Floodlight can be set to either PIR movement activation or dusk till dawn lighting as well. This compact 16W LED floodlight has the equivalent light output of a 200W halogen, with a 90% reduction in running costs.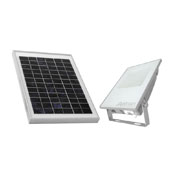 Robust…
For larger properties you may want to consider something of commercial grade standard. The Ring PIR LED Floodlight is strong, reliable and IP56 rated, which means it is protected against dust and heavy splashes of water. Fundamentally this is a very durable floodlight. As an added bonus it is also solar powered making it the number one choice for cost effective, environmentally friendly lighting. Once fully charged it can switch itself on 100 times for an interval period of one minute.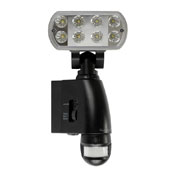 Lights… Camera…. Caught in the act…
As we have seen the various police bodies referenced all state that lighting should be one part of a comprehensive security plan for your home. Therefore if you are really looking to beef up your security you need the Guard-Cam LED Security Floodlight.
This state-of-the-art piece of equipment combines an impressive 12m PIR movement sensor floodlight with a digital camera that can record videos and images. It also has the option of activating a voice warning as well. It can be set to tell an intruder that they are being recorded on camera or it can play the sound of a dog barking, a powerful deterrent.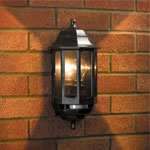 Traditional style… and toughness…
Classically styled properties need interior and exterior lighting that works well with the period features. Just because security lighting is for a specific functional purpose doesn't mean that it can't blend in well with the surroundings. The Coach Half Lantern with PIR sensor will be the perfect security fitting for a traditionally styled home.
A post… for a contemporary look…
You may want a security light that complements the style of your home and is a feature in its own right. The Edit Inox PIR Post Light is elegant and perfectly suited to a contemporary garden. It can be positioned to add a touch of modern poise to your outdoor space.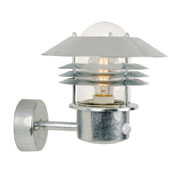 Guaranteed for a long time outdoors…
It can be very satisfying when making a purchase to know that the manufacturer has complete confidence in their product. The Vejers PIR Wall Lamp comes with a staggering 15 year anti-corrosion guarantee so you know that this striking contemporary wall light will stand the test of time.
Why not take a look at our full range of Security Lights.
Alternatively for more inspiration try our Lighting Ideas section.

Maxine Clarke Senior Buyer
Maxine has been our decorative buyer since 2015. With her experience in working for consumer-led brands, she is the perfect person to pick out the latest lighting trends for both your home and business. Maxine has an eye for the best up-and-coming lighting from the UK and around the world and works tirelessly to add new brands to our portfolio. One of her trends to watch in 2020 is connectable garden lighting; with summer garden parties more and more popular, being able to build and extend your own outdoor lighting with spotlights, festoons and string lights has never been easier – simply plug and play.