Lights that emanate from a ceiling are unsurprisingly called ceiling lights but they can be attached in many different ways. Some hang down, some are fitted flush whilst others are recessed into the ceiling itself. Recessed lights are better known as Downlights, and as the name implies they provide a light that is designed to shine downwards.
Downlights are especially useful in rooms or areas where light is required to be concentrated on a particular horizontal surface like a craft workbench. By using a number of small downlights recessed in a ceiling you can light up the whole room as well as concentrating light where it is needed most. That type of installation is ideal where ceilings are low.
Shrewd Lighting
Using downlights you can create some extraordinarily attractive effects in living areas such as your lounge or drawing room. Do people still have "drawing rooms" I wonder? Whatever name you choose to give your living space you want it to look its best. Downlights can be a great help with that. Using spotlights to highlight special features or objects in conjuction with downlights will always add a touch of opulence to the most modest home. The shrewd use of dimmer switches (where downlights are dimmable) enables you to ring the changes with your lighting effects. The lighting can even be automated or remote controlled just like your TV if you wish!
Downlights are ideal for kitchens and bathrooms especially when used in conjunction with dimmer switches. For this effect you need to choose dimmable downlights with a suitable IP rating. In kitchens you can have bright light concentrated on your food preparation surfaces, cooker etc. which you can tone down to create a more restful ambience when cooking and washing up are all done. In bathrooms you'll probably appreciate a softer, more relaxing light, bright enough to see properly but not so bright as to highlight all your little imperfections. After all our vanity when de-robed ready for bathing prefers a light that flatters rather than one that emits a harsh glare!
Lighting Zones
Kitchens and bathrooms, especially bathrooms, are what are known as "wet areas" That means that lights must comply with even higher standards than the basic fire resistance. Bathrooms and shower rooms are divided into three distinct zones for the purpose of determining the required degree of protection for lights installed there.
For lights actually inside your bath or shower tray, that's Zone 0 and the lights must be low voltage, i.e. 12 volts or less and be totally immersion proof. Lights to be fitted in the area above the bath or shower, classed as Zone 1 require a minimum rating of IP44 (IP65 recommended). If the light runs directly off the 240 volt mains there must be a 30ma RCD in the circuit. Zone 2, which is an area up to 600mm from the outside edge of the bath, also requires a rating of IP44. All zones extend from the floor up to a height of 2.25 metres.
For more information on Zones take a look at our Bathroom example.
Evo-lution
Getting back to the lights themselves… Lighting Direct's H2 Evo range of LED spotlights are very low voltage dimmable (and non-dimmable) downlights rated to IP65. Another range of LED downlights is actually called Fireguard to emphasise the fire safety benefits they offer. Some of the Fireguard range are dimmable, others are not. What they all do have in common is the amazing economy that comes with LED technology. Extremely long life is coupled with very low energy consumption.
All these are recessed in the ceiling and are single lights that can be arranged in a pattern that puts the light where you actually want it. Why not have a look at the White Directional Spotlight and the Satin Chrome Directional Spotlight, these recessed downlights are extremely versatile and available in 12 volt low voltage form as well as mains voltage.
Directional or fixed? – It's your call
Should you use directional or fixed downlights? Well, you may want both. Use directional lights where you want to highlight a feature or illuminate a particular work area for handicrafts , food preparation or similar. Use fixed lights to light up a whole area or perhaps create a light wash over a wall or drapes. That's the beauty of downlights, you can use them in various ways to provide the effects you want. They are available in whatever form you need. You only have to choose!
Take a look at our full range of Downlights.
Need more inspiration? Check out our Lighting Ideas section.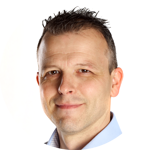 Andrew Evangelidis Head of Buying
Andrew is an experienced buying professional who takes an entrepreneurial approach to identify new lighting solutions and ensure Lyco have first-to-market ranges for our customers. Having previously worked for well known brands such as Wickes, Carphone Warehouse and Toys R Us, Andrew has now turned his hand to sourcing commercial lighting and ensure our customers receive top brand quality products at marketing leading prices. He manages a team of commercial and decorative buyers who travel the world finding new products that our customers don't even know they need yet.