Water and electricity are a dangerous combination so when choosing bathroom lights it is essential that you familiarise yourself with two terms; Bathroom Zones and IP Ratings. When purchasing bathroom lights you need to ensure that the fitting you choose has the relevant IP rating for the Zone in which it is to be placed. So what are IP Ratings and Bathroom Zones?
Understanding Your Bathroom
IP Ratings
Light fittings are given an IP rating which dictates their suitability for a particular environment either inside or outside the home. The IP stands for 'ingress protection' and is followed by a 2 digit number which rates its level of protection against intrusion by objects eg, dust (digit 1) and level of waterproofing (digit 2). For further information take a look at our guide to IP ratings.
Bathroom Zones
When selecting lighting you need to establish in which area of your bathroom it will be placed and how exposed it will be to water. Electrical safety regulations break down the bathroom area into clear zones to help you select the right fitting with the appropriate IP rating for the level of protection required.
The diagram below illustrates Bathroom Zones 0,1,2 as well as the areas outside the zones.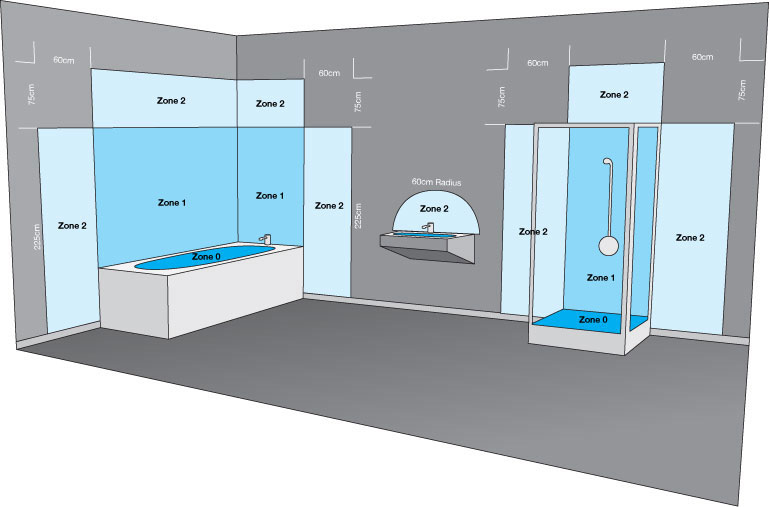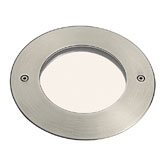 Lights for Bathroom Zone 0
Zone 0 covers the areas inside the bath or shower tray. If you decide to illuminate this area the fittings must be low voltage and must have a minimum rating of IP67 making them immersion proof.
The Adelpha Submersible Ground Light is an ideal choice for this area as it can be completely submersed under water to a depth of up to 1M. If you have a wet room why not dot these lights across the floor as they are not only waterproof but 'walkover' proof too. For a beautiful blue hue take a look at the Garland SMD LED Walkover Lights – Set of 10 – Blue which can be used to dramatic effect both under water and under-foot. Using energy efficient LED technology they will be virtually maintenance free too.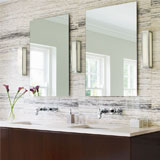 Lights for Bathroom Zone 1
Zone 1 incorporates the area directly above the bath or shower tray to a height of 2.25m from the floor. A light with a minimum IP44 rating is required for this area. An IP44 rating ensures the fitting is protected against any water spray from any direction. If the light uses a 240V supply, a 30ma RCD (residual current device) must be used to protect the circuit in this zone.
For a contemporary vibe in your bathroom take a look at the Mashiko Classic 360 Wall Light – Polished Chrome. This sleek fitting combines chrome and frosted glass and can be positioned either horizontally or vertically to work with your space. With an IP44 rating it is suitable for bathroom zones 1, 2 and outside zones. The Eternity Mirror Light is a dual purpose fitting that is also suitable for zone 1 and above. It will provide soft ambient lighting whilst you soak in the bath.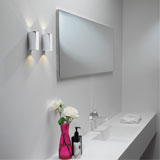 Lights for Bathroom Zone 2
Zone 2 covers the area 0.6M outside the bath's perimeter and to a height of 2.25M from the floor. As with Zone 1, a minimum IP44 rating is required for this area.
Position the Bloc LED Wall Light – Polished Chrome on outer walls for a stylish modern bathroom or place either side of a mirror. Alternatively if you fancy a mirror, light and bathroom cabinet all rolled into one then the Zeus Illuminated Mirror Cabinet is a strong choice and will work well positioned above your basin. An IP44 rated shaver light is multi-functional and a handy fitting for any bathroom – check out the Coronation Shaver Light.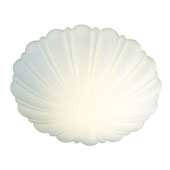 Outside Zones
Outside zones cover areas which fall outside of zones 0,1 and 2 and are well away from any contact with water. No IP ratings are required for light fittings in this area.
Recessed downlights can create an even spread of light across your bathroom and can be teamed with other light fittings for a layering effect. The fire-rated Fireguard LED6 Spotlight will bathe your room in a warm white light. For a more decorative piece of lighting take a look at the scallop shaped Cafe Semi Flush.
Lighting Direct always recommends that you use an electrician for the installation of your bathroom lighting. For more ideas on ways in which to illuminate your bathroom click here.
For all of our other great tips and advice see our Lighting Ideas section.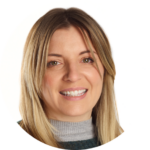 Maxine Clarke Senior Buyer
Maxine has been our decorative buyer since 2015. With her experience in working for consumer-led brands, she is the perfect person to pick out the latest lighting trends for both your home and business. Maxine has an eye for the best up-and-coming lighting from the UK and around the world and works tirelessly to add new brands to our portfolio. One of her trends to watch in 2020 is connectable garden lighting; with summer garden parties more and more popular, being able to build and extend your own outdoor lighting with spotlights, festoons and string lights has never been easier – simply plug and play.