This year's biggest gardening celebration – National Gardening Week – falls between 30 April and 6 May. Backed by the The Royal Horticultural Society (RHS), this seven day initiative aims to encourage everyone to get outside and enjoy their gardens.
Whatever your plans for celebrating National Gardening Week, now is a perfect time to think about refreshing your current garden lighting scheme to help you make the most of your outdoor spaces at this time of year. Here are some garden lighting ideas to get you inspired.
Spotlights
If you've put a lot of time and effort into getting your garden looking wonderful, it deserves to be the centre of attention, even after dark. Garden spotlights are a great way of drawing attention to key garden features such as as trees, plants, flower beds, statues, or just about anything else that you want to show off after the sun goes down. Spotlights are very versatile, allowing for directional control over the focus of the beam, meaning they can be adjusted easily to create different effects throughout your garden.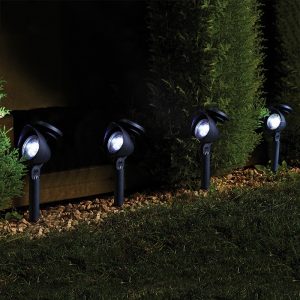 Path and walkway lighting
Having poorly lit pathways or steps in your garden can be a health and safety hazard, so it's a good idea to install lighting in these areas to help guide you and your guests around after dark. One way to do this is with brick and tile lights, which discreetly slot into place for fuss free illumination. Alternatively you may wish to line paths with post and bollard lighting – as as well as being practical, these lights come in an array shapes, sizes, and finishes, making them a great option for adding some style and character to an outdoor space.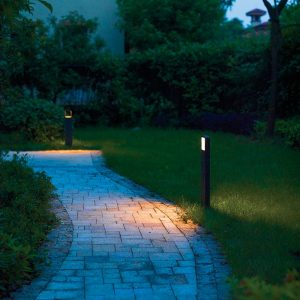 Al fresco dining
Create the perfect Al Fresco dining area with LED candles, festoon lights, and twinkling fairy lights. These magical yet practical lights will create a perfect backdrop for long and lazy evenings spent socialising with friends and family in your garden.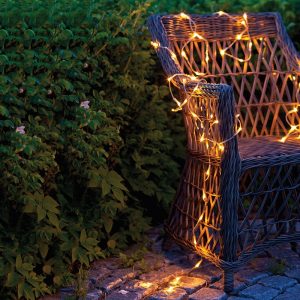 Party lighting
Garden lighting may be practical, but that doesn't mean it can't be fun too! From funky feature lights, such as colour changing plant pots, to bold festoons, lighting can be a great way of adding some 'wow' factor to an outdoor space.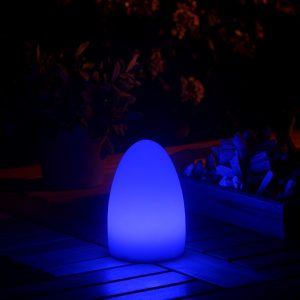 Solar lighting
Solar lighting is changing the way we illuminate our gardens. By harnessing the sun's natural energy, solar lights are the most environmentally friendly and cost effective lighting solution available today. Solar lights come in a wide range of styles and fittings, including wall lights, bollard lights, and fairy lights to name just a few. Another major advantage of solar lights over their mains-powered alternatives is that they can be installed anywhere, without the need of an electrician. If you are looking to make an instant impact in your garden with minimal effort, solar lights are a great option.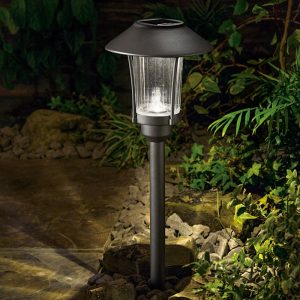 For more garden lighting inspiration and ideas visit our outdoor lighting page.