If you're investing in fine art, which might include a painting, print, photograph, or sculpture, some thought needs to go into how it's displayed and where it is located. The things that would destroy art sometimes hide in light. Click here for picture lights.
Colour temperature and heat
The kelvin temperature scale is used to numerically label different colours of light, ranging from red to orange, to yellow, white, blue-white, and finally blue. For example, a warm-coloured incandescent bulb of yellow hue usually has a 2700 kelvin colour temperature, whilst a bluer LED light might be 4000K. Confusingly, a higher temperature refers to a cooler-looking light. Note that colour temperature is a reflection of actual heat in an incandescent or halogen bulb (e.g. 2700K = 2426.85°C).
Colour rendering index (CRI)
The Colour Rendering Index (CRI) is a rating applied to bulbs and fittings that defines their ability to display colours accurately. Sometimes the CRI score is prefixed 'Ra'. The closer this score is to the maximum CRI 100 score the more reliable a light source will be at displaying colour.
What to avoid – The enemies of art
Where you place your art and how you light it is vital. The enemies of art are often unseen, so it's as well to know about them:
UV light accounts for 40% of all damage to art by fading. Ultra-violet light is invisible, and too much exposure has a harmful effect on all organic substances, including materials used in paintings, photos, and prints. Sunlight is the major source of UV light, though it also exists in fluorescent lighting.
Heat causes 25% of all damage to art by fading, drying out, warping, buckling, and cracking it. A heat-damaged oil painting will usually begin to crack. Removing infra-red radiation from a light source reduces its capacity to damage art.
Visible light causes 25% of damage to art, and here you are stuck unless you keep your art in a box. However, you can ensure your pictures aren't lit for too long, and use window shades where possible to avoid relentless light.
Miscellaneous causes amount to 10% of damage and are mostly unrelated to light, including damp, humidity, and floating grease or dust.
Choose a technology
Unfortunately, no ideal light source exists for art. Daylight is the best light for looking at art, but it's not so good at preserving it. Here are the main choices in artificial lighting:
Incandescent: renders colour reliably, but with a red bias that is better suited to warm-coloured artworks. Its main downsides are inefficiency and heat.
Halogen: exceptional colour rendering and a better-balanced light output than incandescent, often seen as a pure white. Drawbacks include extreme heat and energy inefficiency (the heat problem is reduced in 'cool beam' low-voltage halogen spotlights).
Fluorescent: an economical light source seen in some art galleries, but inadvisable for use with any high-value artwork because of UV radiation. However UV protective frames can help to reduce the damaging effects. Fluorescent products produce a much cooler light than incandescent or halogen. A greatly improved technology in recent years.
LED: Produces little or no heat or UV. Extremely energy-efficient, long-lasting and available in warm Kelvin colour temperatures. Drawbacks include initial cost and quality of colour rendering can vary between products.
Halogen is often judged the best lighting for art because of its crisp, white light and superb colour rendering. Negligible heat and UV radiation in LED lighting makes it a good choice when used in close proximity to delicate oil paintings, watercolours, and textiles. The Louvre Museum uses LED lighting!
What to buy
Let's assume you've chosen a good position for your art, avoiding direct sunlight. With some art forms you may have fitted a UV protective frame. A picture should hang with its centre at eye level. Now you're ready to light your art.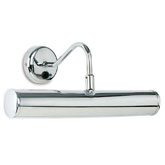 Halogen & incandescent
The Gainsborough Large Picture Light is a good choice for lighting traditional art. Two incandescent candle bulbs in the Gainsborough will accentuate any warm colours in a picture. Halogen will also give you strong warm hues, but with better violets and blues. This classic fitting is available in a range of sizes and finishes.
To choose the right size of picture light, the light fitting should span roughly half of your picture or painting (not including frame), or slightly less.

The Teetoo 350 Picture Light is a contemporary alternative to the Gainsborough, using halogen capsules to emit a crisp, white light and give your art plenty of punch. A choice of sizes and finishes are offered.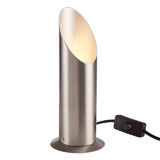 Halogen spotlights & sculpture
Switching to 3D art, the Toronto Corner Uplighter is a great choice of floor lighting for sculpture. By casting its light upward, this fitting will emphasise contours and texture, and lend drama to any indoor statue.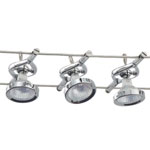 Another choice for sculpture is the Sunbeam Wire Light System. You can focus its small low-voltage lights onto your statue or carving from several points to add visual interest at every viewing angle.

LED & low-energy fluorescent
Ideal for modern artwork, the Goya 760 LED Picture Light can light a picture of at least 1.5m width. With its adjustable light head you can fine-tune its effect. Using built-in LEDs this smart fitting will last you for years. It is available in other sizes and in a low-energy fluorescent version.

For a minimalist look, the Vermeer 40 LED Picture Light is tough to beat. Extending further from the wall than most picture lights, this model gives good light coverage from a slimmer light head.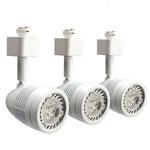 Another choice is track lighting. The Acorn LED 3-Light and Track Kit includes three LED spotlights and one metre of track. The lights can be sited anywhere along the track for versatility, and the track length can be extended to 30 metres by adding extra tracks and lights.
Why not take a look at our full range of Picture Lights.
Alternatively for more inspiration try our Lighting Ideas section.

Charles Barnett Managing Director
Charles started Lyco in 1995 with just 4 enthusiastic employees and has grown it considerably over the past 25 years. Charles is also the Managing Director of Lighting Direct and newly acquired Online Lighting. He now has a team of 50 lighting experts working on growing Lyco Group to be the UK leader in lighting for both businesses and homes. Away from the office he is a keen cyclist and is proud to have cycled 1017 miles from Lands End to John O'Groats to raise money for a new residential centre for adults with multiple learning difficulties.