If you are just about to redecorate and are looking for design inspiration and bedroom lighting ideas then we have something to whet your appetite. Whether you are looking to create a tranquil sanctuary, a glamorous boudoir or a bold and bright space we have something to suit.
Ideas to Inspire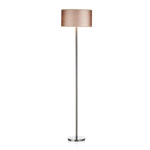 Indoor Orangery
Bring a citrus twist and a touch of Tuscan warmth to your bedroom by creating your very own Orangery. Pot up zingy lemon and sweet orange trees and place beside a south-facing window for a Mediterranean vibe. Mix terracotta floor tiles with walls painted in warm reds, burnt oranges or golds and team with a floor lamp with a taupe shade such as the Edit Floor Lamp. Add a nature inspired designer lamp shade such as the Banksia 42 Pendant Shade for added authenticity.

Plain Sailing
A nautical themed bedroom always looks fresh and contemporary. White painted floor boards, a sea grass rug, crisp white bed linen dotted with blue and white striped scattered cushions and swathes of white fabric dressing the windows can look effective. Add an organic cotton lamp shade in a complementing colour scheme such as the Respect 30 Shade – White / Blue Stripes to complete the look.

Bright and Breezy
Why not inject some bright colours into your bedroom space for a fun feel. Hot pink walls teamed with black accessories can look powerful and will add a sense of drama. Use different textures and materials, a round bed as a central piece or even wallpaper the ceiling for a funky vibe. Finish with a striking ceiling pendant such as the Baron Pendant Shade – Black and Gold.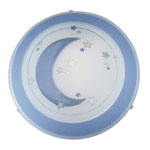 Child's Play
Make your child's space visually interesting, funky and fun. Why not create their very own tree house with a raised bed set against painted tree canopies on the wall or an aquamarine dream with illuminated fish tanks over the bed head. Whatever the theme the Speedy Flush will bathe the room in soft gentle light perfect for creating a relaxed environment.
Pure and Simple
Create a tranquil space by removing colour altogether. Decorate your room from top to toe in white for complete serenity. White floors, painted white walls, white jugs with simple floral displays and white linen will bring inner peace to your bedroom. Choose a simple white table lamp such as the Dillon Glass Table Lamp – White and place on a white bedside table.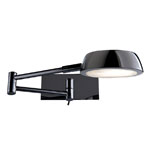 Reader's Paradise
Use books to create a feature wall. Shelve the entire wall and stack with books for a stylish literary effect. Frame a limited edition book or copies of your favourite book covers to continue the theme and don't forget to add a reading light so you can enjoy your favourite novel.
How to decorate your bedroom, which arguably is the most personal space in your home, is a very individual choice. From a clean white décor to striking statement decoration we have a rich selection of lighting to add the finishing touches.
For more interesting ideas click here.