Unlike task and ambient lighting, which are primarily functional, decorative lighting allows you to express yourself and tap into your inner designer. Decorative lights are designed to be seen and although they need to deliver a certain level of light, they can be displayed as a piece of art in their own right.
When selecting your lights consider the age and style of your home and how they will complement your existing furniture. Most importantly though, have a bit of fun and dare to be different when making your choice.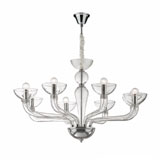 Ceiling Lights
Nothing says 'glamour' like a chandelier. Choose a decorative contemporary piece such as the Casanova Chandelier – 8 Light which is designed in Italy using hand-made blown glass. Suspend it over a large modern table to create a talking point whilst dining. Although this fitting can be height adjusted, it may not suit homes with low ceilings.
A decorative semi-flush fitting such as the Errol Semi-Flush in polished chrome and crystal will make a stunning design statement in a room with a low ceiling. It will work well positioned above a mahogany dining table or teamed with Venetian mirrored furniture in a glamorous bedroom.

Decorative lighting can feature crystal droplets and strings of beading but using more unusual materials can also make a powerful statement. Choose a designer shade such as the Aperture 48 Shade created from sculptured paper for an impressive display. Alternatively take a look at the innovative Drop 18 Pendant created from recycled corrugated cardboard. Position it in a large hallway set against a neutral palette for a simple yet striking first impression.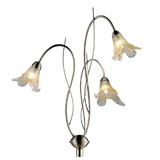 Lamps
The best lighting schemes layer light to create depth and ambience in a room. Decorative lamps can work beautifully to achieve this. Don't feel like you have to stick to the same style of floor or table lamp in one space, mix and match freely for a modern look.
For an intricate and delicate decorative lamp the Lily 3 Light Floor Lamp with its clear and amber glass flower shades will bring a touch of glamour to a living or bedroom. Position it next to your favourite armchair or against a feature wall for an attractive display. Team with soft furnishings and avoid placing it next to very chunky furniture.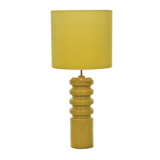 For a splash of accent colour why not take a look at the designer Contour Lime Table Lamp. Use against white and purple furnishings in your bedroom or position behind a living room sofa for an artistic vibe.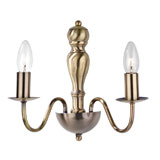 Wall Lights
A decorative wall light in a hallway, bedroom, living room or dining room can pull the feel of a room together. Take a look at the Vaudeville Twin Wall Light which combines an aged brass finish with a traditional candle sconce style. Wherever possible select wall lights which are dimmable so you can control the levels of light to create the right mood.
Decorative Outdoor Lights
Fairy lights are not just for Christmas and are becoming more and more popular as an all year round lighting option. Wrap them around garden umbrellas for summer parties, or wind them around tree branches for a magical glow. Choose a solar powered option such as the Everbright Solar Fairy Lights – White – 300 LED for a decorative wash of light.
Fire up your imagination with our extensive range of decorative lights and bring the 'wow' factor to your inside and outdoor space.
For more exciting tips see our Lighting Ideas section.