Coloured glass light fittings are popular for their uplifting effect and intricate or elegant designs. The glossy, vibrant surface of a coloured glass shade attracts the eye like a jewel and offers an alternative to the quieter look of fabric. Often mimicked with plastic or resin, the natural quality of glass—shaped by fire and water—has everlasting appeal.
In this article, we look at fashionable coloured glass lighting designs from past and present.
Coloured glass – how it is made
Coloured glass was first created thousands of years ago by the Ancient Egyptians and Mesopotamians. The various colours are achieved by adding an oxide, sulphide or other metal compound to the molten glass. Gold ruby glass is one of the more costly red glasses to make, as it contains gold chloride. Other metals used include iron oxide for greens and browns, nickel oxide for violet, and antimony oxide for white. Glass is also coloured or decorated with paint.
Coloured glass styles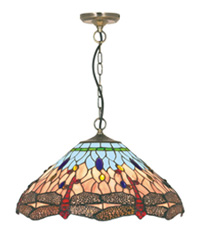 Traditional style
Coloured glass and artificial lighting were spectacularly wedded at the end of the 19th century, when the first Tiffany lamp was produced. The stained glass Tiffany lamp soon symbolised the Art Nouveau period. Nature was the main source of inspiration, with flowers, dragonflies, butterflies, and peacock feathers all well represented by the Tiffany Studios.
So iconic was the Tiffany lamp that modern copies are still known as 'Tiffany style' lamps. These beautiful items are ideal for the traditional or eclectic style of home.
The Searchlight Tiffany Style Dragonfly Pendant is inspired by an especially famous Tiffany design, which had a series of dragonflies with delicately patterned wings lining the edge of the shade. The original was created by Tiffany's head designer, Clara Driscoll, between the years 1900 and 1906.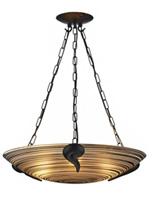 Classic style
Classic style is defined by timelessness and co-ordinates well with modern or traditional décors. The stunning Swirl range of Italian-glass ceiling lights fits into this category and comes from English manufacturer, David Hunt Lighting. This 100-year-old company is a master of lighting design and supplies its beautiful hand-finished luminaires to order.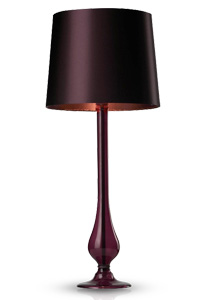 Contemporary style
A contemporary light fitting is made noticeable by bold use of colour, texture and form. Blown glass can be fashioned into beautifully elegant shapes and imbued with rich colours, as exampled in the Nordlux Ripasso ranges. These eye-catching luminaires with polished chrome fixings are effortlessly stylish and certain to enliven a modern home. Choose a colour to match your décor!
Minimalistic designs are another hallmark of contemporary lighting; this is true of the Dillon range of table lamps from Dar Lighting. Here, the graceful coloured glass bases are given centre stage by the subtlety of classic fabric shades.
Ceiling pendants with low-hanging shades are a trendy choice in modern dining rooms and kitchens. An example is the Soho 3 Light Pendant, which is ideal for use above a dining table, kitchen island, or breakfast bar. The strong downward flow of light from the shades helps define personal space and create an intimate ambience for mealtimes.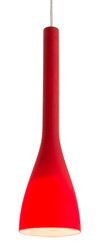 Colour effects
Even the chicest luminaire has a particular lighting effect. A dark glass shade emphasises the warm glow of a bulb and creates a soothing mood, while a paler glass allows greater transmission of light.
The inside of a glass shade also affects output. The white interior of the Flut Pendant reflects and gathers light and projects it downwards. Consequentially, it is extra efficient in lighting kitchen or dining surfaces, as shown in the link.
Coloured glass shades without a reflective interior allow a stronger passage of outward light. This emphasises their hue, as it does with the Nordlux Chardonnay Pendant.
You might ponder these virtues while choosing a fabulous light fitting from our 2015 Trend: Coloured Glass collection!
For more interesting information check out our Lighting Ideas section.

Maxine Clarke Senior Buyer
Maxine has been our decorative buyer since 2015. With her experience in working for consumer-led brands, she is the perfect person to pick out the latest lighting trends for both your home and business. Maxine has an eye for the best up-and-coming lighting from the UK and around the world and works tirelessly to add new brands to our portfolio. One of her trends to watch in 2020 is connectable garden lighting; with summer garden parties more and more popular, being able to build and extend your own outdoor lighting with spotlights, festoons and string lights has never been easier – simply plug and play.