Of all the things that can really tie a room together – comfy sofas, great paintings, or even that perfect rug – perhaps the most important is the ceiling light. Not only is it likely to be a centrepiece in its own right, but the type of fitting you choose will dictate the ambiance of the room.
It's not always easy to find the perfect ceiling light for a particular room. However it is definitely a good idea to let the size of the room be a guide to which type of fitting you choose.
Height matters
The best choice of lighting generally depends on the size of the room – especially the height of the ceiling – and shape, and what you hope to achieve in terms of décor. Do you want your lighting to be literally just that – appearing almost from nowhere for a minimalist design? Or do you want the fitting itself to be a bold and striking part of the décor? The perfect fitting can be an amazing talking point, but so can a badly chosen fitting (just ask a tall guest who has hit their head on a badly placed pendant light for the tenth time).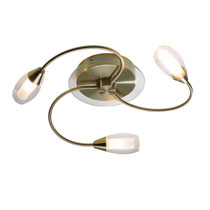 If you do live somewhere with low ceilings, and wall-mounted lights don't entirely fit your lighting needs – living in a large open plan basement flat, for example – flush-fitting ceiling lights are ideal for casting the maximum amount of light into the room, without getting in the way. It used to be the case that you couldn't use higher wattage bulbs in flush fittings due to the heat given off. However cooler modern energy saving bulbs mean that you can have exactly the brightness you desire.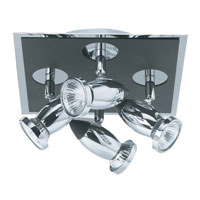 Direct your lighting
If you want more directional lighting, but like the idea of keeping it flush to the ceiling, spotlights may be the ideal solution. Spotlights are wonderful for creating interesting lighting effects, and also for focused lighting in specific areas. This makes them perfect for illuminating kitchen worktops or the home office. They are also great for lighting up your favourite pictures and ornaments.
For a medium sized room you may want a light fitting that makes more of a statement, but without getting in the way. In this case, a Semi-flush fitting may be just what you're looking for. Semi-flush fittings have only a small amount of drop to allow them to remain relatively close to the ceiling. You will find these fitting included in our flush light range. Some semi-flush lights have individual fixtures that can be directed where you want, giving you the versatility of a spotlight.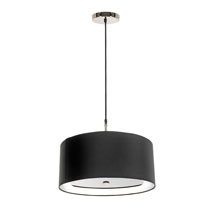 Pendant pleasure
If space is no object there are many pendant lights to choose from, to suit every type of décor, from traditional to modern, colourful to minimalist. Ideal for rooms with medium to high ceilings, pendant lights allow you to create a more intimate feeling, even in larger rooms. This style of lighting is perfect for defining a relaxed and homely environment by deploying both light and shadow.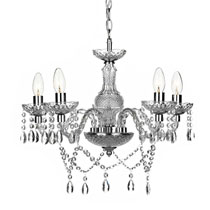 Thinking big
Finally, if you have a more traditional room and you want to make a bold statement, you may be looking for a chandelier or two. A chandelier creates an instant dramatic effect, even when not switched on. They also work well with larger items of furniture, such as big dining tables, to make a room feel balanced. If you are lucky enough to have large rooms with high ceilings in your home then why not fill them out and show them off with a magnificent and inspiring chandelier.
Why not take a look at our full range of Ceiling Lights.
Looking for more inspiration and guidance? Go to Lighting Ideas
Maxine Clarke Senior Buyer
Maxine has been our decorative buyer since 2015. With her experience in working for consumer-led brands, she is the perfect person to pick out the latest lighting trends for both your home and business. Maxine has an eye for the best up-and-coming lighting from the UK and around the world and works tirelessly to add new brands to our portfolio. One of her trends to watch in 2020 is connectable garden lighting; with summer garden parties more and more popular, being able to build and extend your own outdoor lighting with spotlights, festoons and string lights has never been easier – simply plug and play.