There are very few events in your life as momentous as your wedding. When planning for the big day, chances are that you'll spend countless hours ensuring every small detail is perfect – the invites, the flowers, the table decorations and so on – not to mention the more significant elements such as the venue, the cake, and the entertainment. In addition to all of this, one element that should not be overlooked is the lighting.
Just how much of a consideration lighting needs to be will depend on a number of factors and what the wedding venue will provide in terms of lighting on the big day. However, even when lighting is included as part of a wedding package, there are still plenty of opportunities to inject some personality and originality into a venue, in the form of decorative lighting features.
For example, using letter lights to spell out names or initials adds an element of personalisation, whilst strategically placed feature lights can help draw attention to key areas of the venue, such as the wedding cake or bar area. When it comes to table decorations, LED candles provide a safe and reliable alternative to their wax equivalents – ideal when children are present – whilst warm string lights interwoven with flowers add that extra bit of magic to any centrepiece.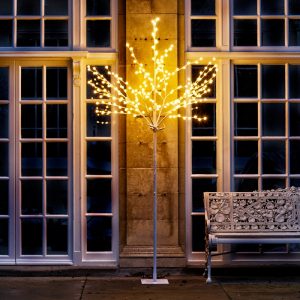 For those working with a blank canvas and decorating their own venue from the ground up, lighting becomes an essential component and needs more careful consideration. Looking past the primary objective of illumination, lighting should complement the venue and theme, whilst providing the flexibility to cater for both day-time and evening usage. This is where it pays to utilise a number of different lighting components that can be used at different times throughout the day.
If you are planning a summer wedding, and the English weather is kind to you, festoons and fairy lights are a great way to subtly add light to any outdoor space. Weaving festoons or fairy lights through trees and bushes will create a relaxed, laid back atmosphere in the venue grounds, as well as help to guide guests along paths and walkways.

When planning the lighting for your wedding, it can be easy to get sucked into the trap of sticking with traditional white bulbs. There's nothing wrong with this approach, but to inject a bit of personality to the occasion why not consider adding a splash of colour? Multi coloured festoons are a great way to bring a venue to life in the evening once the party gets started!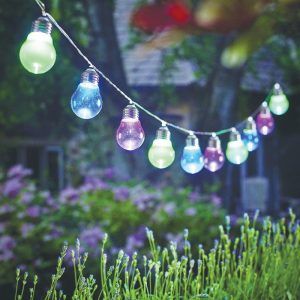 There's so much to consider when planning a wedding and lighting plays a big part of that process. Before making any decisions about where to invest your hard earned budget, it's worth doing research into the different solutions that could work for you, and also speaking to our lighting experts who can help you plan for the big day.