Bulkhead lighting may not be the first thing that springs to mind when it comes to sprucing up the exterior of your house. Although generally thought of as a functional light bulkheads can in some cases add real character to your home or business premises.
For some, the word bulkhead may bring to mind a wall inside the hull of a ship, or within the fuselage of an aeroplane, which is one of the word's other meanings. However, when it comes to lighting your home, garden or commercial property, the term 'bulkhead' refers to a very specific type of light.
What is bulkhead lighting?
Bulkhead lights provide a robust style of lighting for outside areas and large indoor spaces. They're often used by businesses and in industrial areas where bright light is needed constantly. Bulkhead lights are designed to be tough enough to withstand dust, water and even acts of vandalism. They provide large amounts of light which in itself can act as a deterrent to vandals and thieves. It's because of their durable design and impressive lighting ability that you'll find bulkhead lights in underground car parks, on outside walls, and inside warehouses and large commercial buildings.
Bulkhead lights are also a useful security addition to the outside of your house and perfect for garage lighting. They also make dark garden pathways safer and easier to navigate.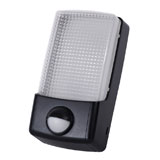 So what's available?
If it's outdoor lighting you're after, take a look at our Night Eye LED Bulkhead, which is protected against rain, dust and jets of water, making it a good choice for industrial areas. The light also has a dusk-to-dawn feature, which provides light during the night as a deterrent to thieves and vandals, then turns itself off during the day.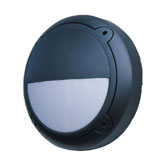 If you're looking at lighting solutions for your business, the Horizon Bulkhead is a versatile option, which can be used indoors or outdoors. It's robust, vandal resistant and hardy enough to withstand the elements. The eyelid design ensures the light is directed downwards and not over fences into other people's homes or businesses.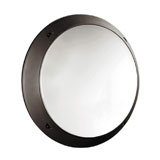 A number of our bulkhead lights are also appropriate for interior applications. The Toronto Flush Fitting Bulkhead has a sleek rounded design and comes in both black and white colour casings. The light can be used inside a shower cubicle or to brighten up your bathroom area, either by attaching it to your bathroom wall or ceiling.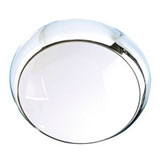 Another stylish option for interior lighting comes from the Golf Low Energy Bulkhead, which comes in a choice of polished finishes – cool chrome or white. It can be wall or ceiling mounted and uses a low-energy bulb, which delivers around 12,000 hours of light. Click here to view our full range of bulkhead lights.
Looking for more inspiration? Try our Lighting Ideas section.

Andrew Evangelidis Head of Buying
Andrew is an experienced buying professional who takes an entrepreneurial approach to identify new lighting solutions and ensure Lyco have first-to-market ranges for our customers. Having previously worked for well known brands such as Wickes, Carphone Warehouse and Toys R Us, Andrew has now turned his hand to sourcing commercial lighting and ensure our customers receive top brand quality products at marketing leading prices. He manages a team of commercial and decorative buyers who travel the world finding new products that our customers don't even know they need yet.