Getting the right lighting for your bathroom is vitally important because this room is used for so many purposes. First thing in the morning, you may need bright lights above the wash basin to help you shave, whereas when you come home from work you may want to relax in the bath with a good book and a glass of wine.
We've got all sorts of bathroom lighting available to help turn your bathroom into a place where you can get ready for work, spruce yourself up for a big night out or have an evening in pampering yourself.
Relax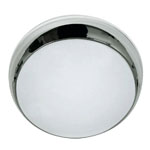 The main source of light
When it comes to the main source of lighting it really depends on how you want your bathroom to feel and what will suit the décor. For example recessed downlights will provide crisp pinpointed illumination which will help to cultivate a clean and modern image. However for a really relaxing feel a flush fitting with a large diffuser is the perfect way to bathe yourself in soft and comforting illumination. You can achieve this effect with the Carina 28 Watt Polished Chrome Flush Fitting. This type of lighting is great for when you are unwinding in a long hot bath.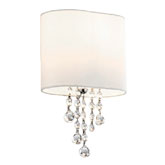 Wall lights
Wall lights are a wonderful way to add relaxing mood lighting to your bathroom. Wall lighting is generally softer and less oppressive than ceiling illumination. It also offers a greater tonal quality and the abundance of shadowing creates an elegant ambiance. The Togo Wall Light is the perfect fitting for creating the feel of a glamorously styled room. A simple and effective way to give your bathroom charm and make relaxing a decedent pleasure.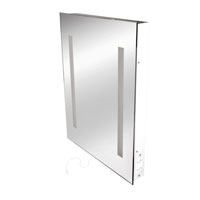 Pamper
Mirror Lights
There is nothing wrong with wanting to look your best be it for work or going out on the town. There is also nothing wrong with enjoying the pampering process and taking that extra time to make yourself look immaculate. Mirror lighting removes all the shadowing and gives you a clear and even illumination for perfect pampering. The Eternity Mirror Light is not only exactly what you need from a practical point of view but the fitting itself will also give your bathroom an extra touch of contemporary style.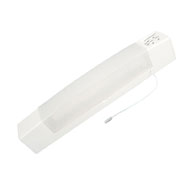 Shaver Lights
Whether you're going for a clean-shaven look or you're just tidying up your designer stubble, shaving your face requires bright, shadow-free light, so you don't accidentally miss a bit or nick your face. The Eterna Horizon Shaver Light has classic style and a built in socket so you can charge your electric shaver or toothbrush. The socket and the light work independently so you can leave things charging over night.
IP Ratings
IP stands for Ingress Protection. Each rating has a number after it, which indicates the light's level of protection, and where it can be situated within the bathroom. It's important to know about Ingress Protection before buying any bathroom lights. We go into more detail on IP Ratings in our Bathroom light safety feature.
Looking for more inspiration? Take a look in our Lighting Ideas Section.