A lot of careful consideration needs to be given to your bathroom lighting, and I'm not just talking about the ambiance and decor. It's very important to be aware of the safety issues when it comes to lighting your bathroom for the simple reason that electricity and water shouldn't mix. Click here to check out our range of bathroom fittings.
Bathroom Lighting Zones
The following information is a guide to help you understand what fittings can be placed where. This is not an installation guide and at Lighting Direct we recommend that all bathroom lighting be fitted by a qualified electrician. Firstly it is important to understand the rating by which bathroom and some outdoor lights are classified. IP rating stands for Ingress Protection and is always followed by two numbers.
These two numbers refer to the level of protection, for example IP44. Use the table below to discover what this means:
Find the first digit from the left-hand column and the second from the right-hand column.
Explanation of IP Ratings Protection Levels

0
Not Protected
0
Not Protected
1
Protected against Solid Objects greater than 50mm
1
Protected against Dripping Water
2
Protected against Solid Objects greater than 12mm
2
Protected against Dripping Water when tilted to 15°
3
Protected against Solid Objects greater than 2.5mm
3
Protected against Spraying Water
4
Protected against Solid Objects greater than 1mm
4
Protected against Splashing Water
5
Dust Protected
5
Protected against Water Jets
6
Dust Tight
6
Protected against Heavy Seas
7
Protected against the effects of Immersion
8
Protected against Submersion
Also it is important that you choose fittings with the correct rating according to where in the bathroom they will be installed. The bathroom is divided into zones and some of them require a higher IP rating than others.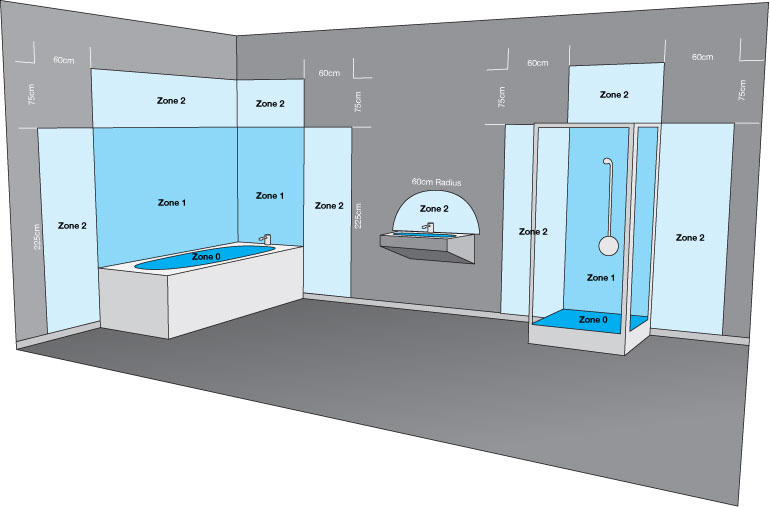 The diagrams above show a bathroom split into three clear zones: 0, 1 and 2.
Zone 0
Is inside the bath or shower itself. Any fitting used in this zone must be low voltage, (max 12v) and be rated at least IP67 which is total immersion proof.
Zone 1
Is the area above the bath to a height of 2.25m from the floor. In this zone a minimum rating of IP44 is required. If the fitting is 240v a 30ma residual current device (RCD) must also be used to protect the circuit in this zone.
Zone 2
Is an area stretching 0.6m outside the perimeter of the bath and to a height of 2.25m from the floor. In this zone an IP rating of at least IP44 is required. In addition it is good practice to consider the area around a wash basin, within a 60cm radius of any tap to be considered as zone 2.
Outside Zones
Is anywhere outside zones 0,1 and 2 (subject to specific limits) and where no water jet is likely to be used. No IP rating is required. In addition to the above, if there is a likelihood of water jets being used for cleaning purpose in zones 1,2 and 3 a fitting rated a minimum IP65 must be used.
Full details can be found in the latest copy of the IEE wiring regulations.
Looking for inspiration? Try our Lighting Ideas section.

Maxine Clarke Senior Buyer
Maxine has been our decorative buyer since 2015. With her experience in working for consumer-led brands, she is the perfect person to pick out the latest lighting trends for both your home and business. Maxine has an eye for the best up-and-coming lighting from the UK and around the world and works tirelessly to add new brands to our portfolio. One of her trends to watch in 2020 is connectable garden lighting; with summer garden parties more and more popular, being able to build and extend your own outdoor lighting with spotlights, festoons and string lights has never been easier – simply plug and play.