The lack of natural daylight can be one of the biggest challenges when converting a basement into a useable space. You may be lucky enough to have a 'walk-out area' or perhaps a small hopper window but there is a strong chance that you will have to rely solely on artificial light.
Whether you choose to use your basement as a family room, cinema room, games room, gym, office or wine cellar, you need to add good lighting to turn it from drab and dreary to bright and spacious.
Ambient Lighting
To use the basement to its full potential, one of the first aspects you need to consider is ambient lighting. This refers to the overall light coverage in the room. Make sure you maximise any natural light you do have by keeping windows curtain free or by using materials that allow the sunlight to seep through.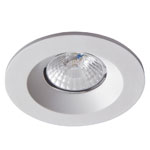 Recessed Downlights
A good choice for low basement ceilings are recessed downlights which will provide modern and unobtrusive illumination. As pools of light overlap, the whole area will be bathed in light. You can select a dimmable option for flexible lighting. As basements tend to have lower ceilings, steer away from low hanging fittings such as pendant lights and chandeliers.
If you want to store wine in your basement, choose an LED downlight which will not generate heat. Consideration should also be given to the light output of the bulb. This 8W LED downlight, for example, is equivalent to a 50W halogen bulb giving a nice level of lighting for your basement space.

Track Lighting
If your ceiling is high enough, track lighting is also a good choice for your ambient lighting. Unlike a fixed downlight you can move the lights along the track to focus the light according to your requirements at the time. Choose a track that will take up to 4 directional lights such as the Madison 3 Light and Track Kit for strong illumination.
Semi-flush fittings are not always the best option for very low basement ceilings as they tend to draw the eye upwards giving the illusion of an even lower ceiling. In contrast, downlights and track lighting will focus your line of vision on the area being lit.

Layering Light
Layering is paramount with all good lighting schemes. Add a smart streamlined floor lamp in a neutral colourway such as the Ruben Floor Lamp to add extra light to a darker corner. Uplighters also work well in a basement. They throw light in an upward direction which is then reflected off the low ceiling and is bounced around the room. The lighter the ceiling colour, the better the effect.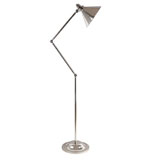 Task Lighting
If you have created a sewing room or a cosy place to sit and enjoy an evening read, then don't forget to add task lighting to the mix. A high quality floor lamp with an adjustable head in light reflecting colours such as the Friend Floor Lamp can be moved around the room and will allow you to focus on the task in hand.
Keep furnishings light and bright in colour for your basement. Neutrals always work well as do sky blues. Select smooth reflective surfaces for furniture and paint your ceiling a shade lighter than your walls for an illusion of space. Add the right lighting and you can enjoy all the benefits of your very own stylish basement.
For more inspirational ideas check out our Lighting Ideas section.

Maxine Clarke Senior Buyer
Maxine has been our decorative buyer since 2015. With her experience in working for consumer-led brands, she is the perfect person to pick out the latest lighting trends for both your home and business. Maxine has an eye for the best up-and-coming lighting from the UK and around the world and works tirelessly to add new brands to our portfolio. One of her trends to watch in 2020 is connectable garden lighting; with summer garden parties more and more popular, being able to build and extend your own outdoor lighting with spotlights, festoons and string lights has never been easier – simply plug and play.