In this article we are going to be looking at period lighting in relation to the Georgian, Victorian and Edwardian monarchies. This is a very basic way to look at lighting styles over a period that covers three hundred years, but it's very interesting to define what characteristics are related to each era.
However please bear in mind though that the examples below are not 100% definitive of each particular period. This article is more about looking at interesting fittings that are reminiscent in style of a given era.
Let's Take A Journey Back In Time
This is the longest era covering over a hundred years and four kings named Georges (1st – 4th). A graceful and elegant period with a sense of refinement and in everything from clothes to interior design there was an emphasis on the importance of presentation.

The Chateau Twin Wall Light will work well in a Georgian styled room. Its soft tone and simple ornate design makes it very reminiscent of the period. This type of fitting can help to give a room a sense of balance when installed in pairs or groups of four for the feeling of symmetry.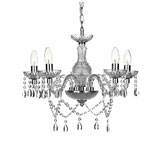 If you are looking for something a little bit more eye-catching then the Katie 5 Light Chandelier is well presented with a sense of dignified grandeur. It's easy to picture this wall light adorning a Georgian style dining room with pale blue walls and a large dark oak table.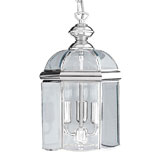 This, of course, covers the reign of Queen Victoria; a time when fashion and design had many difference influences. There was a huge emphasis on decorative ornamentation often featuring animals and nature.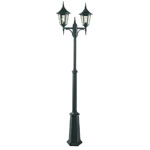 If we are going to talk about this period in terms of lighting then we have to pay tribute to the classic Victorian street lamp. The Norfolk Triple Lamp Post Lantern – Black is a perfect example of this style of lighting. This would be an excellent way to add a touch of Victorian refinement to your garden.
This is by far the shortest era but it's by no means a footnote in history. This was a time of change and moving away from the Victorian style and embracing the early 20th Century. There was a greater emphasis on softer colours and a more light heated approach to design.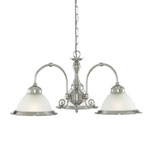 The American Diner 3 Light Pendant would make a well suited centrepiece to a room that is going for an early 20th Century décor. This type of fitting would, of course, work beautifully in a dining room. However it's also easy to picture this feature light in a conservatory above wicker furnishings surrounded by plant life.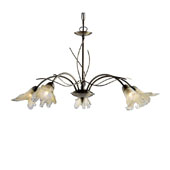 As always when considering different periods of style and design it's important to note that there is always a great deal of overlap especially when it comes to something like lighting. We hope this look at lighting styles over the ages has helped you to clarify the type of theme you want to recreate in your home.
For more inspiration try our Lighting Ideas section.

Maxine Clarke Senior Buyer
Maxine has been our decorative buyer since 2015. With her experience in working for consumer-led brands, she is the perfect person to pick out the latest lighting trends for both your home and business. Maxine has an eye for the best up-and-coming lighting from the UK and around the world and works tirelessly to add new brands to our portfolio. One of her trends to watch in 2020 is connectable garden lighting; with summer garden parties more and more popular, being able to build and extend your own outdoor lighting with spotlights, festoons and string lights has never been easier – simply plug and play.