Vintage Lighting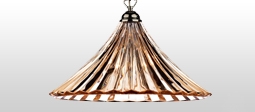 Vintage lighting is, of course, about reproducing styles of the past. You may be thinking that there would be some overlap with retro lighting. However retro fashion is more about looking back at the recent past generally a couple of decades back. Vintage as a category is more about looking at a much broader view of history.
This type of lighting is a magnificent way to add grandeur to your home. It can stimulate the imagination and should attract the eye. If you are a lover of an antiquated style then you will understand the magic it can bring into your home.
What room are you buying for?
For the living room?
Vintage fittings are generally beautifully styled lighting features in themselves, so you want to be careful to avoid something that may overpower the room. Click here for living room fittings.
For a dining room?
This is a great room to add some antique elegance to. You can quickly turn your dining area into a banquet hall fit for a king. This type of lighting can add so much character to every dinner party you throw. Click here for vintage lighting suited to the dining room.
For the bedroom?
You may want to consider something that will add to the relaxing quality of the room. It's good for bedroom lighting to be calming as well as perfectly suited to the décor. For our collection of bedroom fittings click here.
For the hallway?
Installing vintage lighting into your hallway space can really set the tone for guests entering your home. If you are going to use this type of lighting in your corridor you should make sure that the joining rooms have well suited complementary décor. Click here for fittings for the hallway.
Traditional lighting is a very broad term which can relate to many different styles from history. However as a general rule items that fall into this category tend to be very decorative and imaginatively created. Traditional light fittings should reflect a time of craftsmanship and be a counter point to more modern and minimalistic pieces.
Read more about Vintage Lighting