Retro Lighting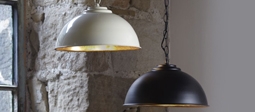 Retro lighting is about adopting past period styles and features to produce new fittings that are cool, trendy and funky. When we say something is retro it is common to think that it mimics the past. However it is also about getting the cool factor from the period right, which can really make or break the quality of a product.
If you are the kind of person who loves a retro decor look you will understand the character it can bring to your home. At Lighting Direct we have excellent fittings that reflect inspiration from many different eras.
What sort of retro lighting are you looking for?
Something elegant from the 20's?
Do you love décor with a misty early twentieth century feel to it? If the idea of a smoky Parisian café sounds romantic then you need to have a look at some of our beautiful Rise and Fall Pendants. As the name suggests you adjust the height of the light to suit the room and the mood.
A pre-war classic?
How about a light fitting that will make an amazing centre piece with a kind of 1940's charm? Our range of striking Pendant Lights have a grand and industrial feel to them. They will make an excellent talking point in your home.
The classic diner look?
Are you looking for a way to bring the 1950's into your home. If you want stylish retro lighting perfect for a kitchen/diner or dining room then take a look at our Bar Pendants.
Something funky for a living room?
Do you love the character and style of the 60's? Creating a décor with elements from this eyeconic decade can make your home more interesting and distinct. Click here for our Overhang Floor Lamps.
Retro lighting is a difficult category to pin-down what feels retro for one person may seem modern to someone else. Nevertheless all the lights in this section have nostalgic charm and eye-catching beauty. They are the perfect way to add a style signature from a particular period to your home. At Lighting Direct we think retro lighting should never be a thing of the past.
Read more about Retro Lighting