Glamour Lighting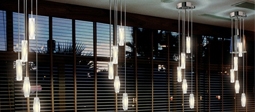 In this glamour lighting section we have an inspired collection of fittings that shine, sparkle and most of all definitely attract attention. These dazzling fittings are exciting and have a natural ability to bring some magic to your home.
Our glamorous fittings will appeal to a particular kind of person who loves to be ostentatious and flamboyant. If you take great joy from showing off your wonderful and striking home you will adore our bright, shiny and magnificent fittings. Click here for a guide to going glam.
What sort of thing are you looking for?
To make a living room fantastic?
If you are looking for something to make a living area look ten times for glamorous then you need to check out our gorgeous collection of Chandeliers. They are best suited to large rooms with high ceilings.
Something a little more compact?
Do you crave the splendour of a chandelier but really don't have the room for it in your home? Well if you are after glamour lighting for a not so spacious room then click here for the Flush fittings. Alternatively something from the Semi-Flush collection may also be appropriate.
For the hallway or staircase?
Are you the kind of person that wants sparkle and the wow factor in every area of your home? Cluster and Cascade fittings are glamour lighting that works well in the unusual shaped areas, like the corridor or landing.
Complementary lighting?
Do you want an ostentatious way to add soft and relaxing lighting to your home? The humble table lamp can make such a difference to a room both in terms of style and lighting.
A great bargain?
Just because you love all that is stunning and eye-catching doesn't mean you have money to burn. Keeping the costs down is easy at Lighting Direct we have some of the most charismatic fittings at the best prices on the web.
Glamour lighting is both fun and exciting. The right fittings can turn your home into a palace. If you want your lighting to be wonderful and glamorous you will love searching through our extensive range of dazzling pieces. At Lighting Direct we know how to do spectacular.
Read more about Glamour Lighting