Eclectic Lighting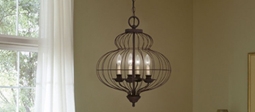 The term eclectic lighting can refer to lots of different fittings. They can be quirky, dramatic, handmade, unusual, inspired and a million and one other things, but they are never boring. Some of our most interesting and striking pieces are right here in this section. Click here for the top ten unusual lights.
If you are fond of creative and artistic ideas you will love our eclectic lighting range. They exemplify how interesting the world of lighting can be. Each piece in this section has its own individual style and character. If you are looking for something amazingly unique you have come to the right place.
What sort of eclectic lighting are you looking for?
For the living room?
An attractive and charming piece of lighting can really help you to stamp your own style and taste on your home. Click here for eclectic lighting for the living room.
For the bedroom?
It is always a good idea to try to keep bedroom lighting well-coordinated to help maintain a soothing and relaxing atmosphere. Try to avoid fittings that may overpower the room. Click here for our range of bedroom fittings.
For the dining room?
An individual and charismatic lighting feature can be the perfect way to bring a dining area to life. It's also a great opportunity to show off your interior taste and style to your dinner guests. Click here for some amazingly interesting dining room fittings.
For the hallway?
This is generally one of the most unappreciated spaces in the home, so why not give it some personality with one of our inspired pieces. Click here for hallway fittings.
For the office?
Just because the working environment requires practical lighting doesn't mean that it can't be interesting. For our range of imaginative office lighting click here.
If you are looking for something unusual and off the beaten track then our collection of eclectic lighting is guaranteed to please. At Lighting Direct we think diversity is a wonderful thing, which is why we stock some of the most amazingly interesting light fittings you will find anywhere.
Read more about Eclectic Lighting