Contemporary Lighting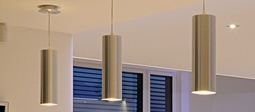 Contemporary lighting is all about new and up to date styles and technologies. We have loads of smart and fresh lighting options for you here at Lighting Direct. If you are a modern person you will love everything that is cutting edge, and probably live in an environment that reflects this.
There are two different ways of looking at contemporary lighting. The first is regarding products that are modern in terms of style and appearance. The second is in relation to the technology, for example the LED innovation has changed the lighting world dramatically. If you are a lover of everything contemporary you will probably be interested in both. For more information about contemporary lighting click here.
What sort of thing are you after?
Trendy and stylish?
Do you enjoy interesting and quirky ideas? We have tons of pioneering lighting ideas to choose from. Why not start your search with a look through some of our feature lighting?
For compact spaces?
Are you searching for light fittings with cutting edge style that will also help you to be economic with limited space? If so we have a great selection of recessed downlights.
Cutting edge technology?
At the current time LED lighting is slowly taking over the industry. They are both kind to the environment and your pocket as they will save you money in the long run. Our range of LED's also come in lots of cool and modern styles and designs.
Contemporary lighting can bring sparkle and shine to a home where it is well suited to. If you are a lover of all things brand new you are bound to enjoy browsing through our collection of the latest and greatest up to date fittings. At Lighting Direct we pride ourselves on having many different types of styles to suit a whole world of tastes.
Read more about Contemporary Lighting