Classic Lighting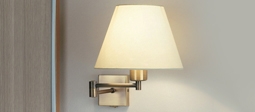 Classic lighting should be eye-catching and familiar, but what do we really mean when we say something is classic? Well, it can be summed up as the definitive or archetypal idea of a particular category.
Sometimes classic can be confused with traditional or vintage. However a particular thing doesn't have to be old fashioned to be classic for example fluorescent tubes are a classic form of office lighting but you wouldn't say they were traditional or vintage.
The great thing about this style of fitting is that they can work well with lots of different décors and styles. If you are selling your home and have redecorated in neutral colours a simple classic lamp or light fitting can make the room look so much more interesting.
What type of classic lighting are you looking for?
Something affluent?
When you think of classic lighting the first thing that comes to mind may be an image of a huge beautiful chandelier. They are a lavishly decadent way to give your home a much more glamorous appearance.
Standard home lighting?
Are you searching for something simple but with timeless charm and character? Pendant lights are without a doubt a classic form of home lighting. They work well in many different rooms in the house.
For the exterior of your home?
A quintessential way of illuminating the front or back of your property is with one of our wall lights. They definitely fall into the definition of classic lighting.
Complementary lighting?
What about soft gentle lighting that can instantly make any room far more homely and cosy? The humble table lamp not only creates a friendly and comforting atmosphere but it also screams classic lighting feature. Go ahead and treat yourself to this definitive piece of home lighting.
Classic lighting is a good place to start when you are thinking about changing your fittings. As the name suggests you can't generally go far wrong with this category of lighting. We have classic fittings for every area of the home both indoor and out in the garden. Take your time we have loads to choose from, and enjoy our extensive range of beautifully classic lighting.
Read more about Classic Lighting