Lighting by Style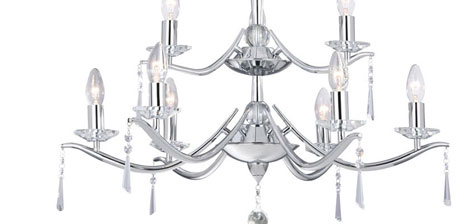 Just like every person each house has its own style, be it tasteful or not, and it is fair to say that some homes lend themselves to one particular style more than another. You may live in a beautiful Tudor cottage that demands the right traditionally styled lighting.
However if you have just moved into a new home you may want to change the style completely to reflect your own character and really change the personality of your home. Well-chosen lighting can play a big part in the overall style of your property. It's important to choose fittings that work perfectly with your chosen décor to bring the most out of your home.
What sort of style are you looking for?
Timeless charm?
If you simply want your home to look very well presented with elegance and distinction then you may want to start by having a look through our classic range. This type of lighting will bring a sense of familiar charm to your home.
Period Lighting?
Different historical eras have produced many wonderful and interesting styles of lighting. We take a look at some of the main historical periods and some of the fittings they have influenced in our Guide to Period Lighting.
Brand new and cutting edge?
If you live in a new build or modern style of home you may feel the necessity to reflect this style within your interior décor. We have some of the most striking and up to date contemporary fittings.
Fun and exciting?
Are you searching for home lighting that is imaginative and interesting? Well we have a well-chosen range of eclectic lighting if you are looking for something fabulously flamboyant. You may also want to check out our Art Deco lighting article for more fun and colourful inspiration.
A bit of sparkle?
Adding a touch of elegance to your home is easy with Lighting Direct. If you are looking for profound distinction for your home lighting then you definitely need to have a look at our glamour range.
A bit of cool from the past?
It's easy to fall in love with the style, fashion and music from a particular period of recent history. Here at Lighting Direct we have some of the best retro fittings on the web.
Iconic beauty?
If you live in a period property or simply love a traditional style then we are bound to have what you are looking for. Our traditional light fittings have iconic strength and character that will add eye-catching appeal to your home décor.
Past splendour?
You may however want to take the feel of traditional glamour one step further with something from our vintage range. We have some of the most striking and elegant pieces available on the market today.
Industrial Grit?
In one of our special features we review how the industrial style has become a very popular modern lighting theme. We take a look at where the style came from and what sort of fittings are relevant to it. Check out our guide to industrial lighting.
Read more about Lighting by Style